PIDGIDAL
ART
PIGEON ! he/they/it
hi there! im pidge. like the bird. im a self-taught artist who likes drawing and writing about the funny little guys in my brain
contact me!
Terms of Service
i reserve the rights to all artwork i create. it is not for commercial use for anyone other than myself.
things i am willing to draw
original characters, pets, fan-art

characters the client owns (gifts for others that are in good taste are fine!!)

humans, humanoids, monsters, feral, anthro

dogs, cats, reptiles, ponies, dragons and most other animals

minor blood/injury or body horror
things i am not willing to draw
hateful art against any race, gender, sexuality or religion

sexual content, fetish content, heavy gore

heavy mecha, very complex characters/backgrounds

anything i am morally against or uncomfortable with
something you're interested in but not listed above?
feel free to ask me!!okay so first things first: respectful treatment. i will always be friendly and communicative during the commissioning process, and i will not tolerate aggressive behaviour towards me. if i feel that i am not being respected, i have the right to cancel the commission and refund the client accordingly.payment is in full after the sketch has been completed and approved, via paypal or e-transfer.during the process i will update you as i work, and you are free to ask for small edits as the piece goes along. large scale modifications following the sketch phase will lead to extra fees.i will try my hardest to finish your commission in a timely manner, but please note i struggle with executive dysfunction and motivation issues which may cause delays! please let me know before finalizing the commission's details if you have a specific deadline needed, as i may have to cancel due to not being able to meet it. otherwise, know you are welcome to message me anytime during the process for status updates and progress pictures :]i accept cancellations! if i have received payment but not begun working past the sketch stage, i will refund the customer in full. if the commission is cancelled anytime past the sketch stage, the customer may keep the work that has been finished and i will keep the payment as compensation for my time and work.i will directly message you the png of your commission when i finish. you're free to use your commission anywhere as long as you make sure to properly credit me with my username (pidgidal) or a link to my socials, and keep my watermark visible when cropping!claiming my art as your own or removing my watermark from the art is strictly prohibited. using my art in/as NFTs, AI art, or anything related is strictly prohibited.breaking the terms above will result in a blacklist. i will not accept any future commissions from you and may warn my friends/mutuals about my experience with you.thank you for showing interest in my art and reading through this :]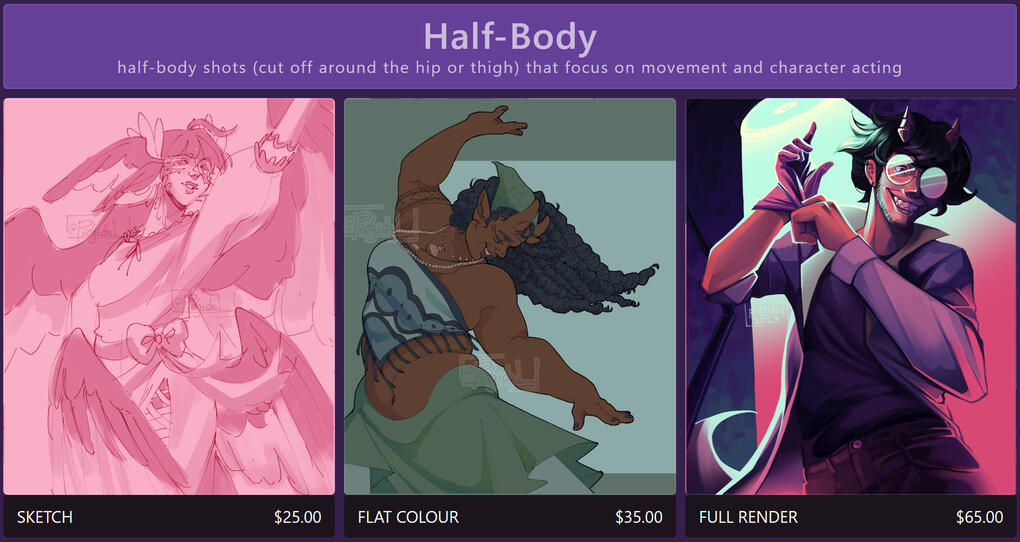 feel free to send in a commission form here or message me directly at one of my contacts below! i will get in touch with you ASAP.you can see the status and progress of my commissions on my trello page!custom characters
wip! please check back soon!!
Commission info
my prices are in CAD.
these are base prices, and can be affected by: complexity, backgrounds, etc.bust
sketch $5
lineart $10
flat colour $20
simple shading $40
full render $50halfbody
sketch $10
lineart $15
flat colour $30
simple shading $50
full render $60full body
sketch $15
lineart $20
flat colour $40
simple shading $60
full render $70
contact me!
Portfolio
i use clip studio paint and a microsoft surface to draw.
illustration
*SOME IMAGES CONTAIN UNCENSORED BLOOD
---
character design
*SOME IMAGES CONTAIN DOLL NUDITY